Southwest High School
Class of 1967
The Communique 2023
This is the current event page for the Southwest High School Class of 1967
We will post all communications that have been received to share with classmates. You may submit items of interest to the site like anniversaries, personal accolades, family events, trips taken, any items of interest, public/personal events you want to share or personal stories. We will not post political, religious or controversial issues.
We need your input. Send your info and pictures to site managers and direct any questions or comments to 952-334-4523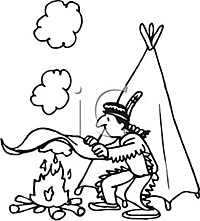 ---
---
Standing meeting
Until further notice the Southwest class of 1967 will sponser an impromtu gathering at Park Tavern, St Louis Park, every 3rd Thursday of the month starting at 12:30 PM. No reservation, just show up and communicate with whom ever happens to be there. See you on Thursday 21 September.
GO INDIANS
---
---
Standing meeting at Park Tavern October 19th 2023
Classmates in attendance; Sandy Grossman, Mary Eichhorn, Georga Smith, Greg Hawks, Barb Trebisovsky, Marsha Engle, Sandy Nelson, Sue and Dave Friedman
Our group was surprised when we arrived to find Batman and Robin and Batmobiles at Park Tavern.
The St. Louis Park Fire and Police Departments were sponsoring Make A Wish event.

Next months gather is November 16
---
---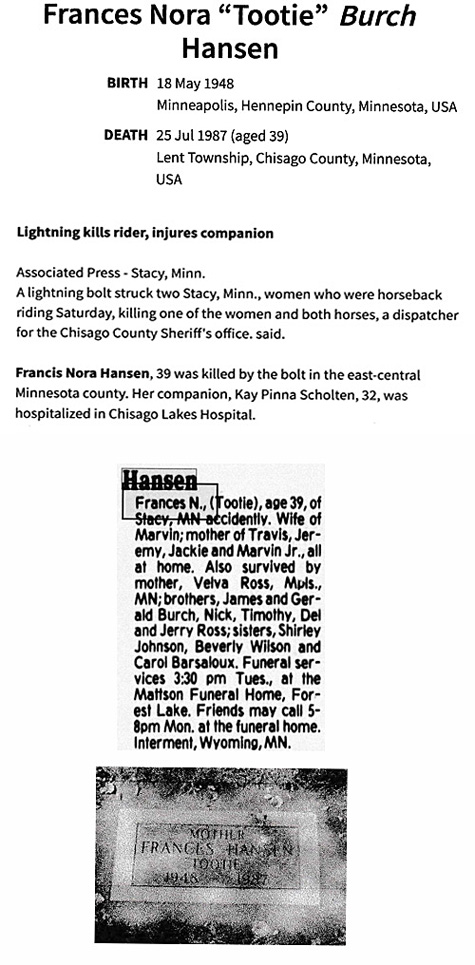 ---
---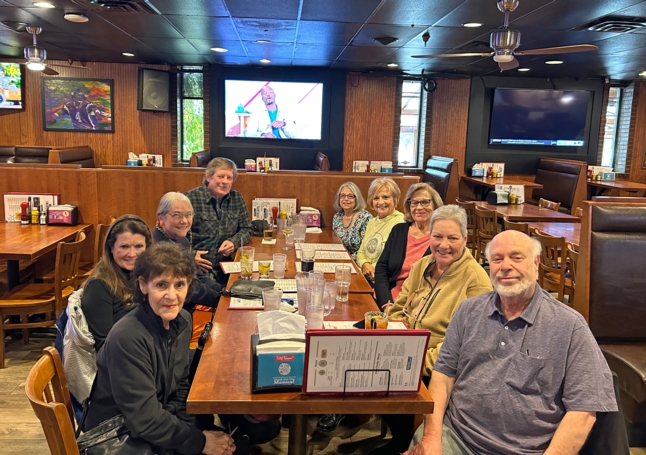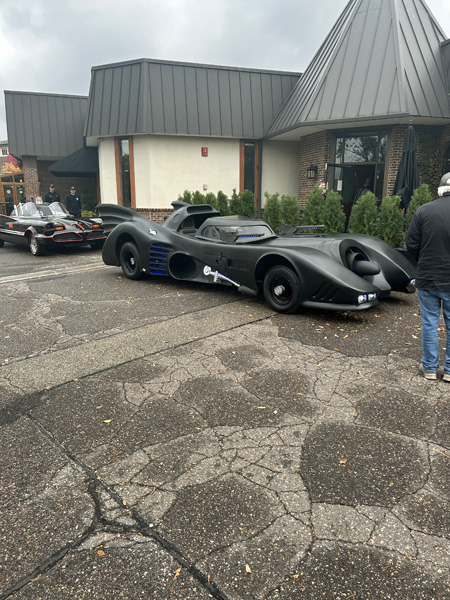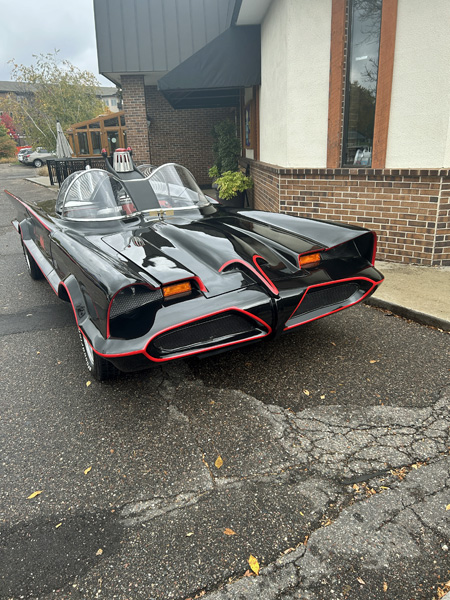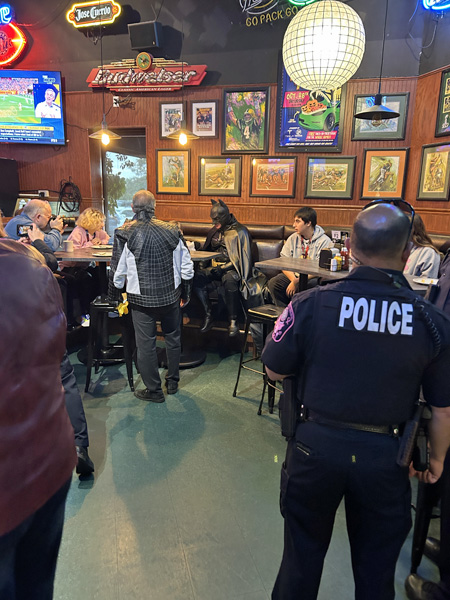 ---
---
Green Mill Gathering
October 15th 2023
Kevin Faus, Linda Williams, Tom Holland, Kent Saunders, Mark Frederickson,
Bob Williams, Georgia Smith and Greg Hawks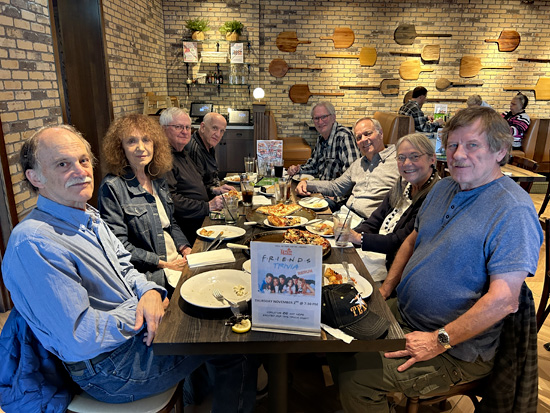 ---
---
Dave Friedman's Surprise 75th Birthday Party held on 15 October at Park Tavern
Classmates in attendance Steve Greene, Drew Hruby, John Joyce, Thom Peterson and Greg Hawks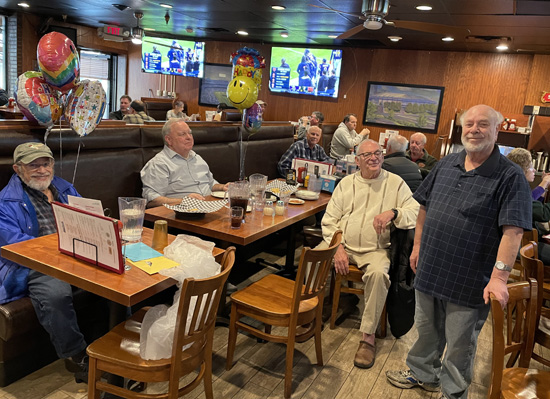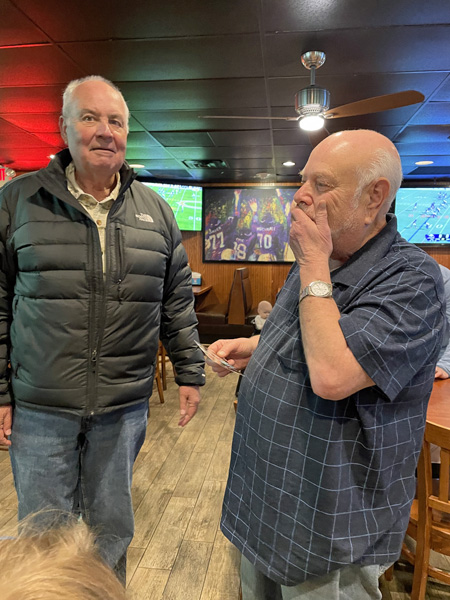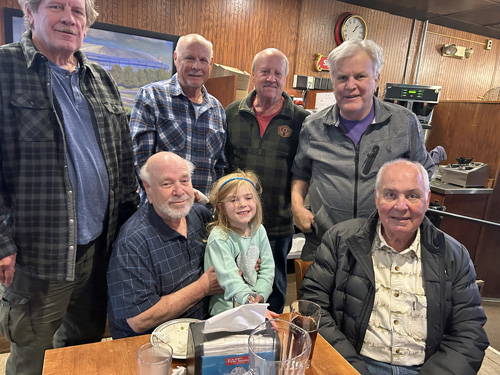 ---
---
The Southwest Class of 1967 held its first monthly get together on 9-21-2023 at The Park Tavern-St Louis Park. 10 classmates attended and had an excellent time. These 10 "charter members" hope you can attend the next monthly get together on Thursday October 19th, 12:30 at the Park Tavern.
The 10 charter members are Jack Long, Thom Peterson, Barb Trebisovsky, Georgia Smith, Sandy Grossman, Bill Coppage, Mary Eichhorn, Sandy Nelson, Greg Hawks and John Joyce.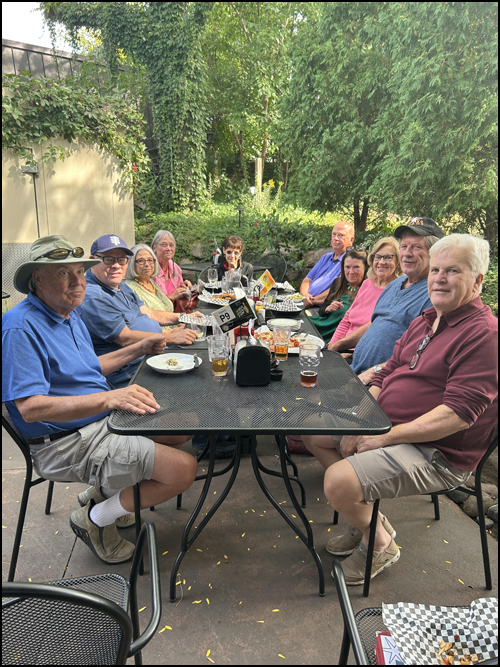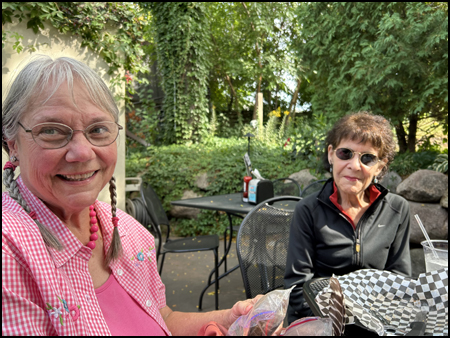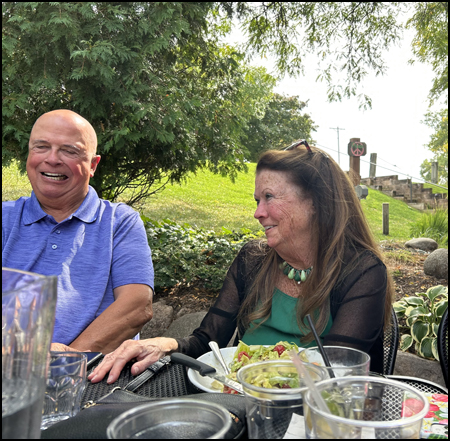 ---
---
CTK - lunch gathering
Christ the King 8th grade class of 1963 (SW67) has scheduled a lunch gathering for Tuesday, September 26, 2023 at 11:00 AM. The location will be the Turtle Bread Bakery on the SE corner of 44th and Beard, Mpls.
Former classmates from Southwest, Edina, Holy Angels, Benilde, St Margarets, Regina De Lasalle, St Thomas and other high schools are invited to attend. Questions? contact John Joyce 952-201-2182
"jjoyce8955@gmail.com"
Armatage mini reunion August 2023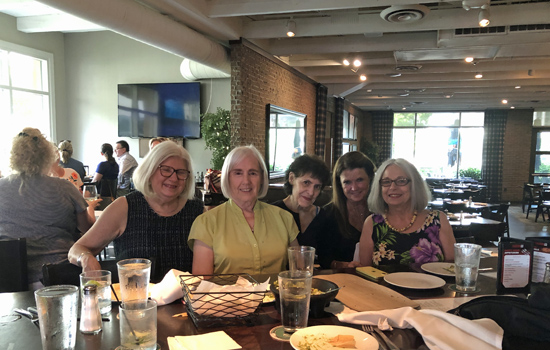 Barb Rude Cervera, Kathy Cude Raymond, Sandy Grossman,
Mary Eichhorn-Hicks, Barb Trebisovsky

---
---
4th Annual Wild Marsh Golf Event
On 18 August, 2023 the 4th annual Wild Marsh golf event was held. 12 participants ( 3 teams ) competed for the coveted winning title. Participants were Ginny(Pingatore) Becker and Tom Becker, John Joyce, Terry Howg, Thom Peterson, Marsha Engle, Greg Hawks, Kreg Kapitan, Kathy Kapitan, Konner Kapitan and Kieth Peterson (Konner's friend)-lots of K's.
The winning team was Marsha's team receiving the gold medal.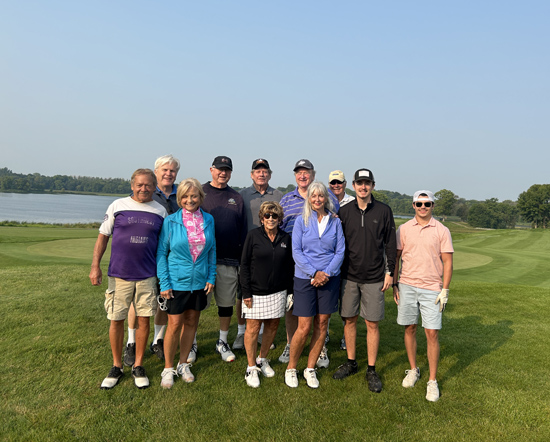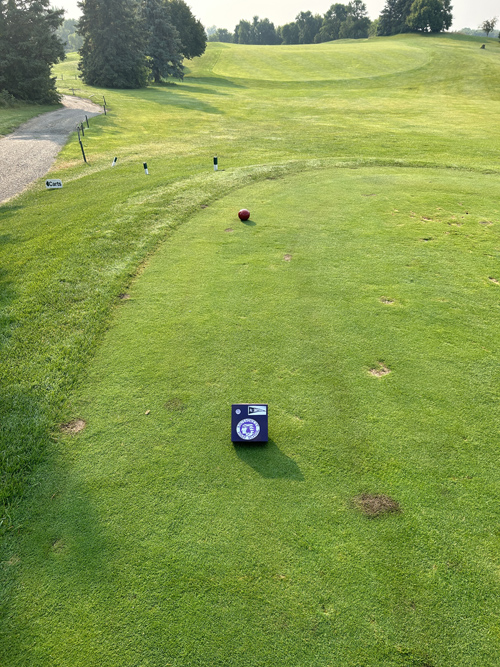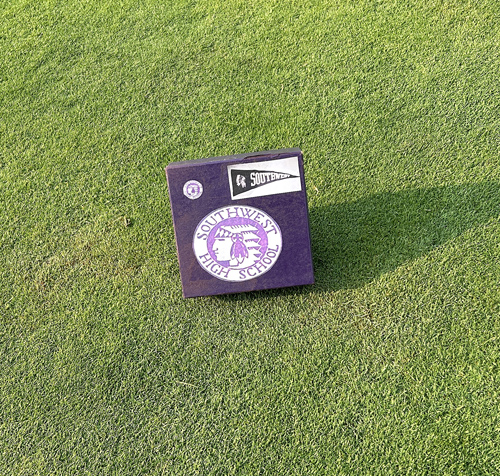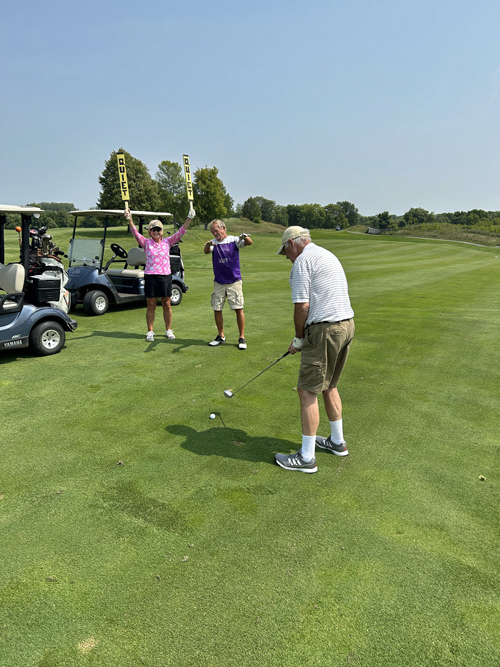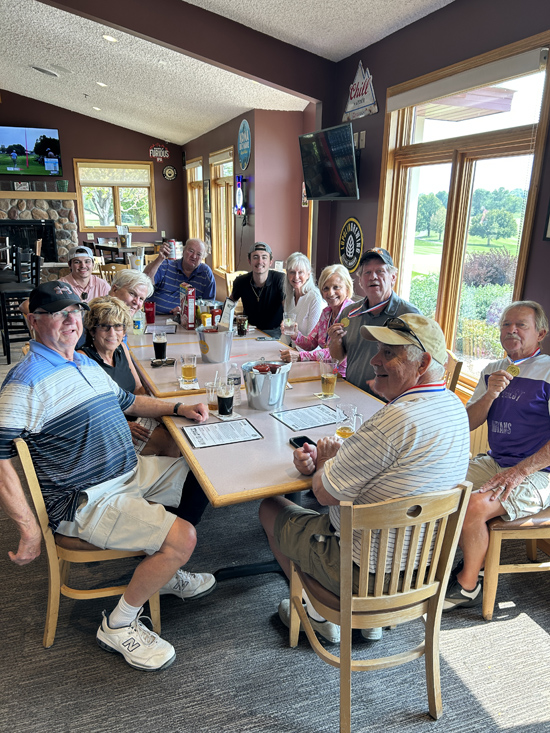 ---
---
Tracy Eichhon Hicks passed on 2 May 2023. Tracy was Mary Eichhorns husband and probably attended more of our class events than most of us. A celebration of Tracy's life was held at Lord Fletchers on 22June23 and many friends and family were there. Here are some pictures of most of the SW67 classmates who attended. Attending were Marcia Woods, Barb Trebisovsky, Rick Lind, Julie French, Greg Hawks and John Joyce.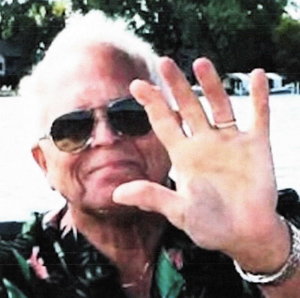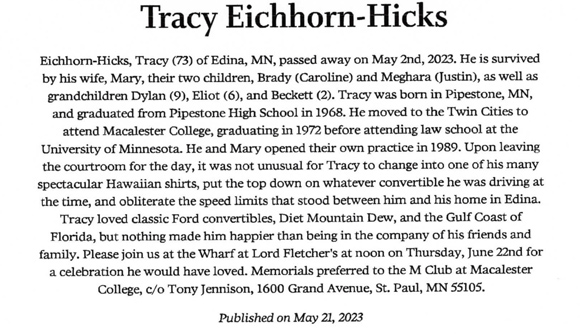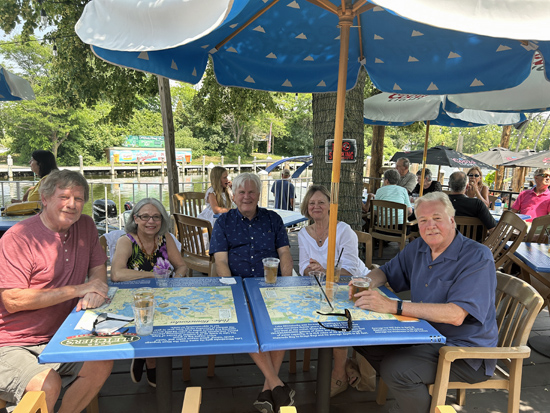 Hawks, Trebisovsky, Joyce, French and Lind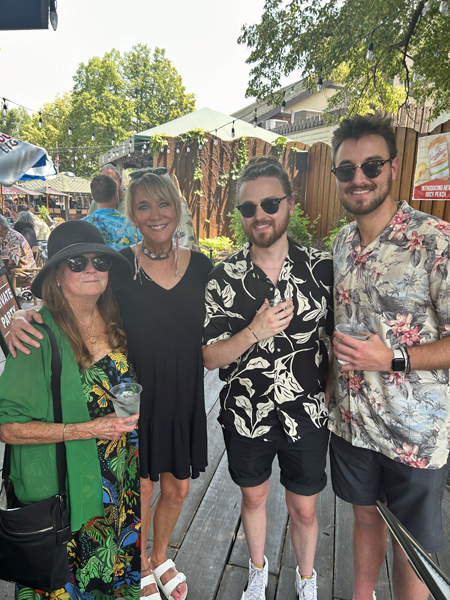 Mary Eichhorn and family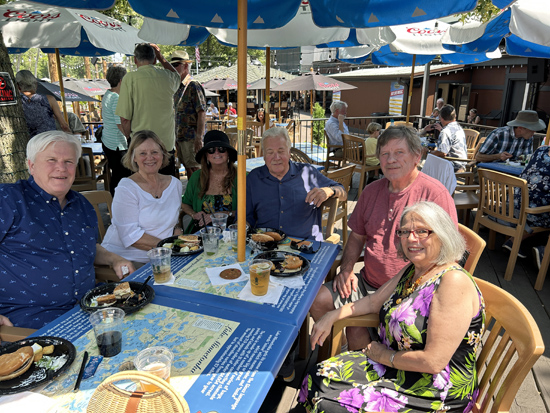 Joyce, French, Eichhorn, Lind, Hawks and Trebisovsky
Announcement: For anyone interested the SW foundation is putting on a golf tournament in September at Meadowbrook golf course. Details are in the SW Foundation newsletter that can be found in the "Southwest Foundation" folder in the left column of the home page.
PIZZA GARDEN REUNION!!!! Notice from Kreg Kapitan
Sunday, August 20 from 12:30 to 3 PM the pizza garden is having a reunion for all former customers and patrons & Softball players! The "Garden" was a very familiar and popular spot to get together after games Friday and Saturday nights while we were in high school. The famous pizza Garden sauce, which the Fischer family and their father guarded in a hermetically sealed vault, has been released to the family, and they will be making pizzas once again for the get together. It will be held at Parkway Pizza, which is on 44th and Minnehaha Ave., South, again from 12:30 to 3 PM. Come on by join in and see a lot of folks you haven't seen in a long time, across quite a few different classes of graduates from Southwest high! Should be a fun afternoon. any questions contact Phil Fischer - (612) 590-9260 Kreg Kapitan
-612-860-0063
---
Pictures submitted by Larry Reece - 7-19-2023
---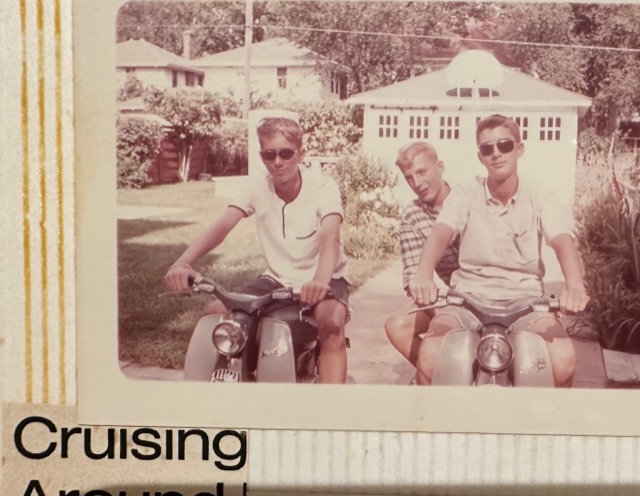 Steve Dimond, Larry Reece and Mark Frederickson-Honda 50's 1965
---
---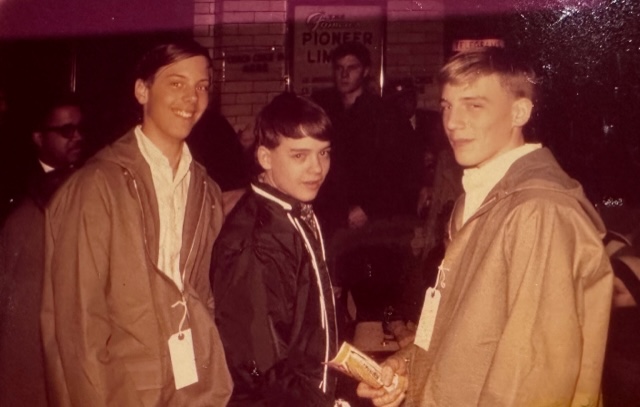 Bob Williams, Terry Howg and Larry Reece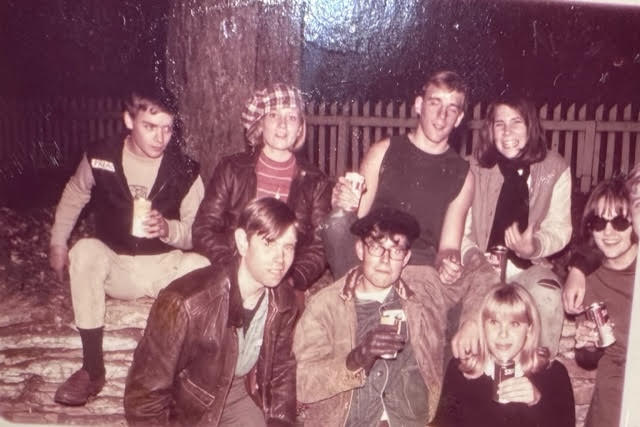 Halloween 1965 -
Front row-Dave Friedman,Thom Peterson, Holly Eliason, Chris Granholm & 1/2 of Drew Hruby
Top row-Terry Howg, Bonny Munson, Larry Reece and Shelly Holt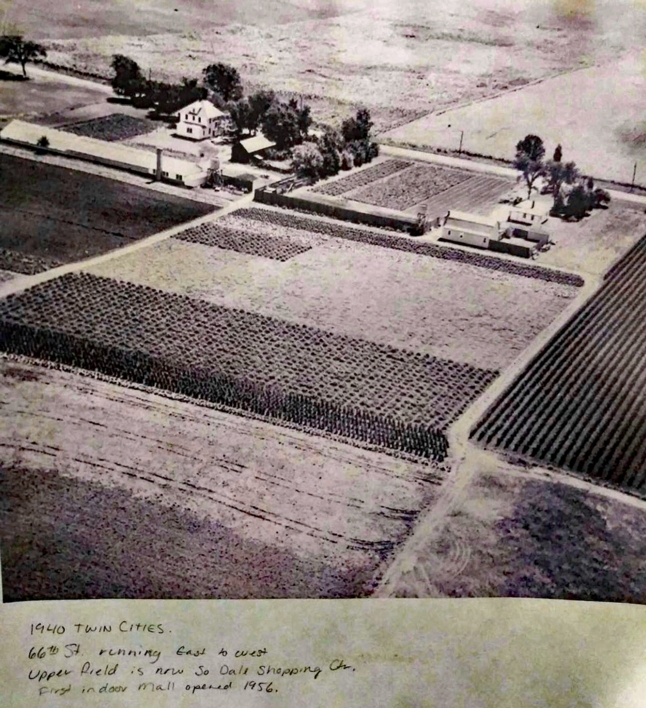 1940 - 66th Street running east to west
Upper field is location of Southdale Shopping Center first indoor mall opened 1956
---
---
---
OVER 65

The number one and main thing that should jump out at all of us is the percent of people in the world that live to be over 65.

THE EARTH'S POPULATION STATISTICS PUT INTO PERSPECTIVE: The population of Earth at this minute is constantly changing, but it's around 7.9 billion at this very second.

For most people, this is an unfathomable figure. However, if we condense that 7.9 billion into 100 persons, and then condense it further into various percentage statistics, the resulting analysis is relatively much easier to comprehend:

Out of 100 people:
11 are in Europe
5 are in North America
9 are in South America
15 are in Africa
60 are in Asia

49 live in the countryside
51 live in cities

75 have mobile phones
25 do not

30 have internet access
70 do not have the availability to go online

7 received university education
93 did not attend college

83 can read
17 are illiterate

33 are Christians
22 are Muslims
14 are Hindus
7 are Buddhists
12 are other religions
12 have no religious beliefs

26 live less than 14 years
66 died between 15 - 64 years of age
8 are over 65 years old

Think about this - If you live in your own home, are able to eat full meals & drink clean water, have a mobile phone, can surf the internet and went to college, you are in a minuscule percentage of the population and are a highly privileged person this day.

This equates to being in the less than 7% category

Amongst 100 persons in the world - only 8 will live or exceed the age of 65. If you are already over 65 years old - be content, grateful and thank God; cherish life, grasp every moment.
If you did not leave this world before the age of 64, like the 92 persons who did pass before you, you are truly blessed amongst mankind. Take good care of your health. Cherish every remaining moment.

---
---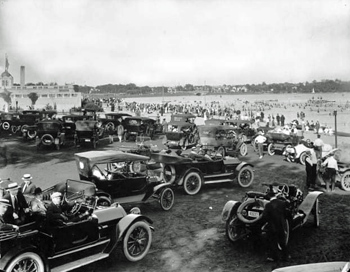 LAKE CALHOUN - MAIN BEACH
1912
-KS -Minnesota Historical Society
---
---
"Birdie with the Yellow Bill" Clellan Card, a Minneapolis dentist's son, was hired as an announcer at WCCO in the early 1930's. He was so clever at dialect, particularly Scandinavian, that soon he was doing specialty work on the station. Styling himself, "Clellan Card, the working girls' friend," he entertained audiences for years on his early morning "Almanac." The program consisted of jokes, musical variety, and coffee and doughnut dunking.
Once a year, on the Saturday morning which fell nearest to April Fools Day, Card opened his program to studio audiences. Listeners by the hundreds flooded the Nicollet Hotel ballroom to drink coffee and dunk doughnuts with Clell "no fair dunking above the second knuckle" Card. Clellan Card dressed in nightgown and nightcap to promote his "Morning Almanac" program about 1939.
Dramatized news of the day was one of the features heard on WCCO in the 1930's. In this narration, George Grim used plungers and a box of sand to make the sound of hoofbeats; Max Karl fired a pistol and Clellan Card read the part. The program always concluded the same way, with one of Card's famous "Birdies" done in Swedish dialect: "B-i -r-d-i-e with the yellow bill, "Hoped upon my window sill, "C-o-c-k-e-d a shining eye and said: " `What did you do with the light ... socket?'
WCCO listeners with long memories (much longer than do we) undoubtedly recognize some of the Card overtones in Roger Erickson's early- morning characterizations on WCCO in his day. This observation led Card to remark, "Well, the faces may be different but the jokes are the same." When all the kidding is done, Clellan Card still rates as the most famed "stand-up" comedian this region ever produced.
---
---
Landrum Wise was recently in town for a week to pick up some stereo speakers and visit many old friends. One of the friends he visited was Larry Reece. He wanted to see Larry's collection of mechanical music machines and his antiques. Mark Frederickson brought Landrum over to Larry's home in Wayzata for 3 1/2 hours of remembering and telling stories from the past. Here are some photos of the meeting.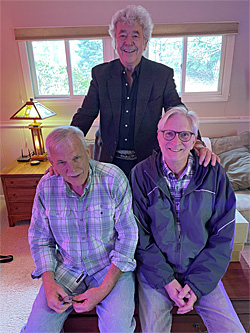 REECE WISE FREDERICKSON
---
---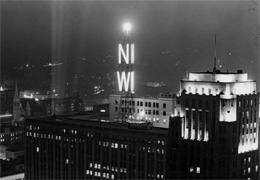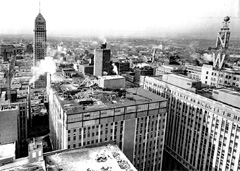 Erected in 1949, the Weatherball was mammoth. Its illuminated sphere perched atop the Northwestern National Bank building, 367 feet above Marquette Avenue. Only the Foshay Tower stood taller on the skyline. More than 1.25 miles of neon tubing below it spelled out the bank's initials, NW.
The most memorable thing about the Weatherball was that it changed color to reflect the forecast. Each day, a bank employee called the U.S. Weather Bureau for the next day's forecast. This was used to set the color of the ball, which glowed between 4:15 p.m. and 1 a.m.
Generations of Minnesotans learned the jingle that translated the ball's forecast:
"When the Weatherball is green, no change in weather is foreseen,
When the Weatherball is red, warmer weather is ahead,
When the Weatherball is white, colder weather is in sight,
If colors blink by night or day, precipitation's on the way."
---
---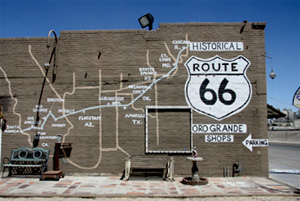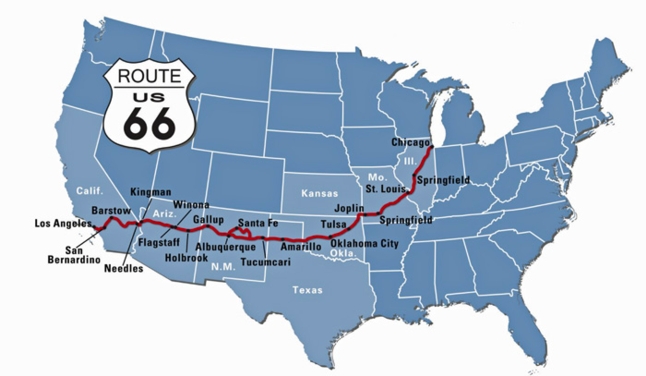 ---
---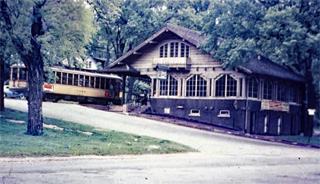 LAKE HARRIET STATION
1954
---
---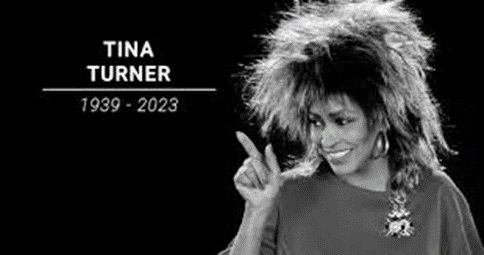 ---
---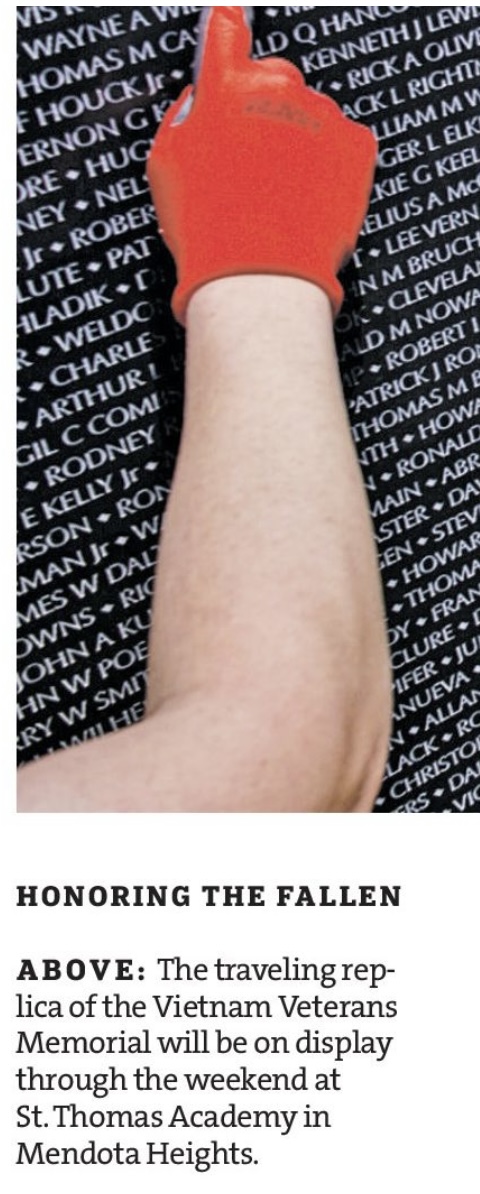 Go look up Tom Noble and Gordie Wise
---
---
Mary Eichhorn-Hicks posted this notice on Facebook and asked that it be added to our site

I am profoundly sad to report the death of my beloved husband of 44 years, Tracy Eichhorn-Hicks. We were partners in life and in law and I will miss him every day. Although dementia had taken its toll over the past few years, he was still able to enjoy the company of his family and friends. We were lucky enough to have spent most of February with family at some of Tracy's favorite spots along the Gulf Coast of Florida, which gave him the perfect opportunity to wear a few of the Hawaiian shirts from his impressive collection. We feel his loss deeply and are working to come to terms with his passing. Plans for a memorial service are in the works; we will share the details when they are finalized.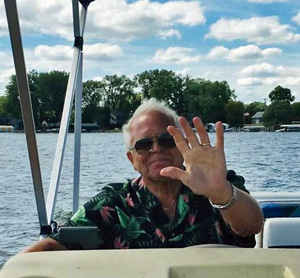 ---
---
Humor from Steven Wright
OK, so what's the speed of dark?
How do you tell when you're out of invisible ink?
If everything seems to be going well, you have obviously overlooked something.
Depression is merely anger without enthusiasm.
When everything is coming your way, you're in the wrong lane.
Ambition is a poor excuse for not having enough sense to be lazy.
Hard work pays off in the future; laziness pays off now.
I intend to live forever ... So far, so good.
---
---
Hi SW'rs!
In case any of you like swing music in the Count Basie/Duke Ellington tradition and are going to be in town looking for a night out, this is a cool group with over 20 years of history that is playing next week at Crooners Supper Club in Fridley (Yours truly is near the far left of the photo).
Here's where you can obtain tickets:
https://www.eventbrite.com/e/doug-haining-and-the-twin-cities-seven-tickets-612393554607?fbclid=IwAR0KXUOoB4JqZmaaMmlr8Aw6dndxOCVWl-l-Xp2QwnEk-FTwjdXrgmGlkuI
Would love to see some SWHS folks there!
Kent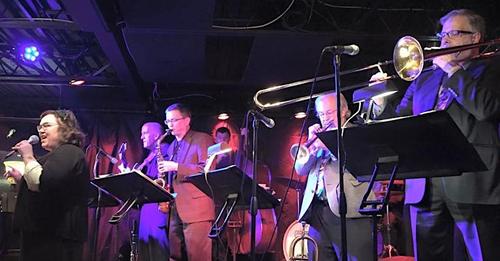 ---
---
Folk singer-songwriter Gordon Lightfoot dies at 84
Associated Press
MAY 2, 2023
The legendary folk singer-songwriter, whose hits including "Early Morning Rain," and "The Wreck of the Edmund Fitzgerald," told a tale of Canadian identity that was exported worldwide, died on Monday, May 1, 2023, at a Toronto hospital, according to a family representative. He was 84.
TORONTO — Gordon Lightfoot, the folk singer-songwriter known for ''If You Could Read My Mind" and "Sundown'' and for songs that told tales of Canadian identity, died Monday. He was 84.
One of the most renowned voices to emerge from Toronto's Yorkville folk club scene in the 1960s, Lightfoot recorded 20 studio albums and penned hundreds of songs, including ''Carefree Highway," ''Early Morning Rain'' and ''The Wreck of the Edmund Fitzgerald."
In the 1970s, Lightfoot garnered five Grammy nominations, three platinum records and nine gold records for albums and singles. He performed in well over 1,500 concerts and recorded 500 songs.
''We have lost one of our greatest singer-songwriters,'' Prime Minister Justin Trudeau tweeted. ''Gordon Lightfoot captured our country's spirit in his music – and in doing so, he helped shape Canada's soundscape. May his music continue to inspire future generations, and may his legacy live on forever.''
Once called a ''rare talent'' by Bob Dylan, Lightfoot has been covered by dozens of artists, including Elvis Presley, Barbra Streisand, Harry Belafonte, Johnny Cash, Anne Murray, Jane's Addiction and Sarah McLachlan.
Most of his songs are deeply autobiographical with lyrics that probe his own experiences in a frank manner and explore issues surrounding the Canadian national identity. ''Canadian Railroad Trilogy'' depicted the construction of the railway.
''I simply write the songs about where I am and where I'm from,'' he once said. ''I take situations and write poems about them.''
Lightfoot's music had a style all its own. ''It's not country, not folk, not rock,'' he said in a 2000 interview. Yet it has strains of all three.
''The Wreck of the Edmund Fitzgerald,'' for instance, is a haunting tribute to the 29 men who died in the 1975 sinking of the ship in Lake Superior during a storm.
He began singing in his church choir and dreamed of becoming a jazz musician. At age 13, the soprano won a talent contest at the Kiwanis Music Festival, held at Toronto's Massey Hall.
''I remember the thrill of being in front of the crowd,'' Lightfoot said in a 2018 interview. ''It was a stepping stone for me...''
Life in Hollywood wasn't a good fit for him, and it wasn't long before Lightfoot returned to Canada. He pledged to move to Toronto to pursue his musical ambitions, taking any job available, including a position at a bank before landing a gig as a square dancer on CBC's ''Country Hoedown.''
Lightfoot made his popular radio debut with the single ''(Remember Me) I'm the One'' in 1962, which led to a number of hit songs and partnerships with other local musicians. When he started playing the Mariposa Folk Festival in his hometown of Orillia, Ontario that same year, Lightfoot forged a relationship that made him the festival's most loyal returning performer.
By 1964, he was garnering positive word-of-mouth around town and audiences were starting to gather in growing numbers. By the next year, Lightfoot's song ''I'm Not Sayin''' was a hit in Canada, which helped spread his name in the United States.
That summer, Lightfoot performed at the Newport Folk Festival, the same year Dylan rattled audiences when he shed his folkie persona by playing an electric guitar.
As the folk music boom came to an end in the late 1960s, Lightfoot was already making his transition to pop music with ease.
In 1971, he made his first appearance on the Billboard chart with ''If You Could Read My Mind." It reached No. 5 and has since spawned scores of covers.
Lightfoot's popularity peaked in the mid-1970s when both his single and album, "Sundown,'' topped the Billboard charts, his first and only time doing so.
During his career, Lightfoot collected 12 Juno Awards, including one in 1970 when it was called the Gold Leaf.
In 1986, he was inducted into the Canadian Recording Industry Hall of Fame, now the Canadian Music Hall of Fame. He received the Governor General's award in 1997 and was ushered into the Canadian Country Music Hall Of Fame in 2001.
---
---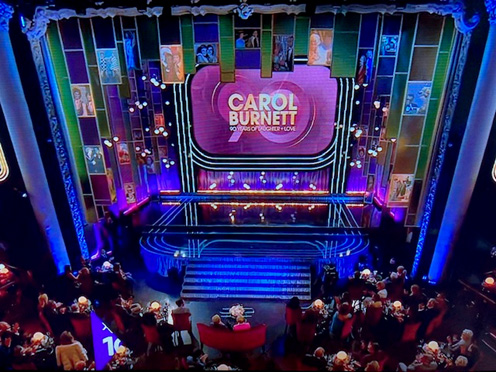 Carol Burnett 90
Laughter and Love

---
---
Hey, hey, Micky Dolenz is the last Monkee and he's coming to Minneapolis
Dolenz talks about the Beatles, the Monkees' business and his upcoming book with photos of Hendrix and Stills.
By Jon Bream Star Tribune
APRIL 25, 2023
Micky Dolenz, right, and Michael Nesmith in 2019.
Micky Dolenz is the last Monkee standing.
Like surviving Beatles Paul McCartney and Ringo Starr, Dolenz still performs under his own name presenting the songs his former band made famous.
Created for an eponymous NBC TV series in 1966, the hugely popular Monkees disbanded in 1970. Since then, they've undertaken sporadic tours (not always as a quartet) and released four new albums. Then death hit the pre-Fab Four: Davy Jones in 2012, Peter Tork in '19 and Michael Nesmith in '21, shortly after finishing a tour with Dolenz.
Now the billing is just "The Monkees Celebrated by Micky Dolenz."
"It's not a burden," said Dolenz, who will perform Saturday at the Pantages Theatre in Minneapolis. "I've toured as a solo artist for years and years. I'm not sure it's even a responsibility. It's just something that I do.
"When the audience is as enthusiastic as it always has been, that keeps you going, too. The job really is the travel for me. They pay me to travel and I sing for free. The shows are the easy part. That's why they call it playing."
For this tour, Dolenz is performing Monkees' hits as well as 1967's "Headquarters," their third album but the first on which the made-for-TV band actually wrote songs and played instruments in the studio instead of just singing.
"It's the 55th anniversary" of the album, Dolenz pointed out. "Michael Nesmith spearheaded the palace revolt. And we put our collective foot down and said, 'We want to make an album all by ourselves.' So we did. It was quite successful. It was on the charts for the best part of a year and it went to No. 1 only to be kicked out of No. 1 by [the Beatles'] 'Sgt Pepper.'"
In a phone interview last week from Detroit, Dolenz, 78, talked about Nesmith's last tour, MTV's role in the Monkees comeback and the pre-Fab Four's relationship with the Fab Four.
On missing the other Monkees
"It's strange because in a way they've never left. I'm always out there singing the songs and seeing the videos and people talking to me about it. I'll be honest: Sometimes I can't watch the videos [during the concerts]. I have to bite my tongue and keep singing the songs and I tear up sometimes when it gets very personal."
On learning to play drums
"I had to learn very quickly [for Monkees tours]. I could read music because I was a classical guitar player. I did have to play kind of backwards because my right leg is a little bit shorter. I had a bone disease as a kid. And it was weird. The drum teacher said, 'Screw it. You're just learning. Play it the other way around.'"
On the Beatles
The Monkees met the Beatles many times.
"They understood what the Monkees were. I think it was John Lennon who said that the Monkees were like the Marx Brothers. He was absolutely correct."
On the Monkees' business
"The four of us had no ownership. I had to license the right to use the name Monkees" for this tour, he explained.
Back in the 1960s, the pay was $400 a week — for the TV show, touring, recording, whatever was required.
"But I feel blessed that I was cast. It's given me a wonderful life. I don't have any serious regrets. It would have been nice to bank more than $400 a week."
After the Monkees disbanded in 1970, Dolenz spent about 15 years in England as Michael Dolenz, television director and producer. He also appeared in a couple of Broadway shows, including "Aida" where he got to play the villain.
On the Rock Hall of Fame
Despite clamoring from fans, the Monkees have never been nominated for the Rock & Roll Hall of Fame. "I've never been one to chase accolades," Dolenz said. "I was very proud to win two Emmys for the Monkees because I was a child of television [he starred in 'Circus Boy' in 1956-57].
On the Monkees' legacy
"It made it OK to be different in 1966, someone famous once said to me. All of a sudden it made long hair and bell bottoms OK. Kind of like in a similar way how Henry Winkler [in 'Happy Days'] made it OK to wear a leather jacket and ride a motorcycle. Before that you were a criminal and a Hell's Angel.
"It wasn't considered to be cool to be different. Maybe that's the legacy. NBC was scared to death to put ['The Monkees'] on."
---
---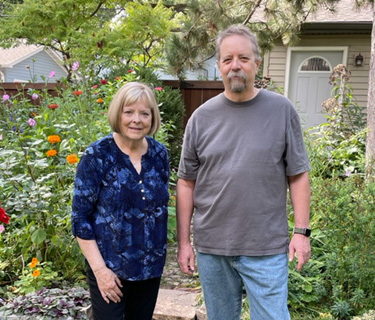 FULTON CLASSMATES
Jane - Steve
---
---
Linda Williams organized a small get together at the Green Mill on Hamlin Ave on Sunday, April 23, 2023. A surprise guest appearance of Landrum Wise was the highlight of the meeting. Landrum made his entrance wearing his Texas 10 gallon hat and wearing his Texas "map" T-shirt. The group reminisced, told stories, had dinner and took pictures for nearly 4 hours-Good Time!!!
The usual suspects- Linda Williams, Bob Williams, Mark Frederickson, Kent Saunders, Bob Fine, Greg Hawks, Georgia Smith and Landrum Wise(unusual suspect)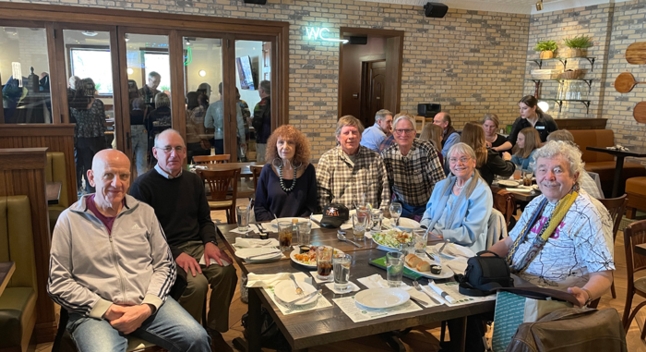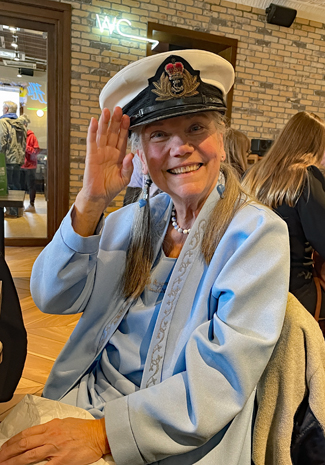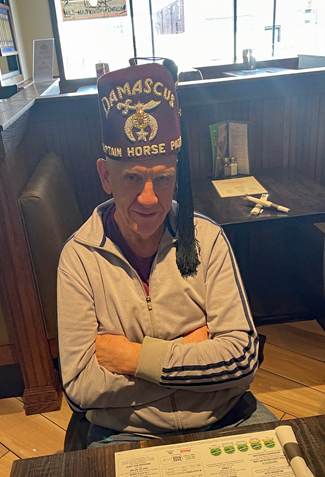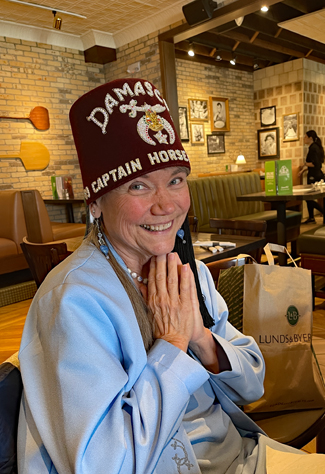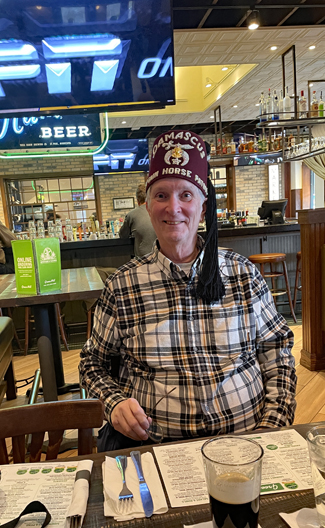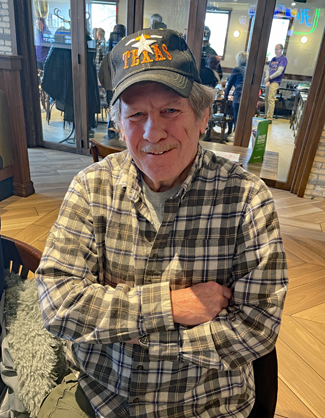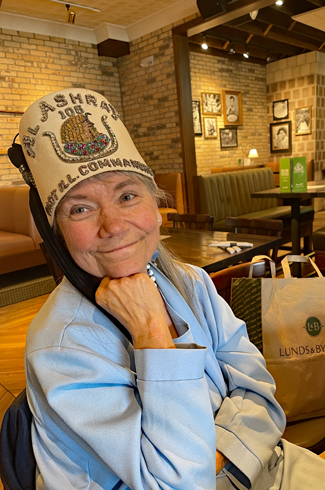 ---
---
---
---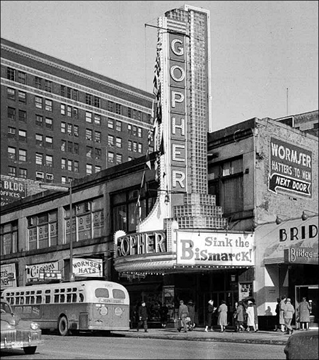 Built in 1911- Became the Gopher Theater in 1938-Closed 1977
---
---
Closing schools could be on the table as the Minneapolis School district has capacity for 45,000 students, but has an enrollment of only 28,000 students and declining. (Star Tribune 4-4-2023)
---
---
Mike Carroll and John Joyce went to visit Jim Solsvig in his nursing home over the weekend. Jim was in good spirits and appreciated their visit. (April 2023)
---
---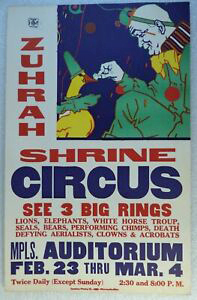 Ladies and Gentlemen, Boys and Girls – and Children of All Ages, it is once again time for The Shrine Circus. Come see the 3 Ring Circus featuring High Wire Acts, Tigers, Flying Trapeze, Jugglers & a whole lot of "Clowning Around"!
---
---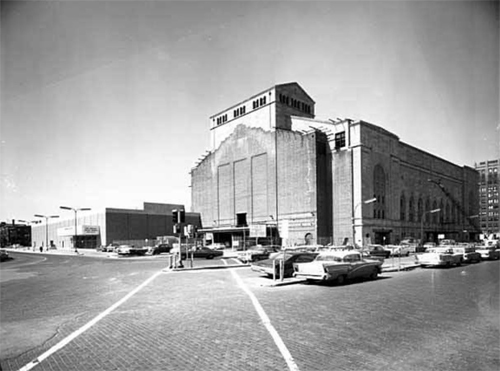 Minneapolis Auditorium
1966
---
---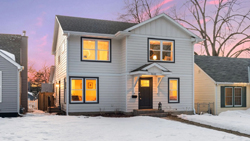 ARMATAGE REMODEL for 800k

This week's hot home brings us to the southwest Minneapolis neighborhood of Armatage, where a nearly 3,000-square-foot remodel just hit the market for $799,000.
Why we love it: A sleek gas fireplace is waiting out back, while the screened porch offers stunning sunset views, Axios' Sami Sparber writes.
Interior features: Marble countertops and moody blue cabinets bridge the chef's kitchen with a bright living area.
Location: 5648 Morgan Ave S
---
---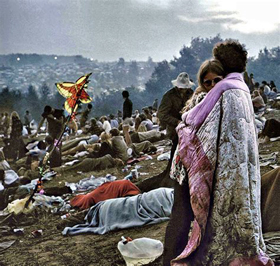 Bobbi Ercoline, Whose Hug Became a Symbol of Woodstock, Dies at 73
March 18
Barbara "Bobbi" Kelly – and her boyfriend decided to go to Woodstock on a whim with her new boyfriend, Nick Ercoline. Early on the Sunday morning of the 1969 festival, the two were photographed standing amidst many other people sitting or sleeping on the grass, wrapped together in a blanket. When the Woodstock soundtrack album was released the following year, the photo was used for its cover.
That drowsy moment became a symbol of 1960s hippiedom.
The couple married in 1971 and remained together until her death. Ercoline became a registered nurse and was the longtime school nurse at Pine Bush Elementary.

---
---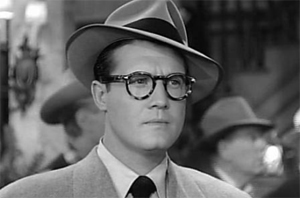 ---
---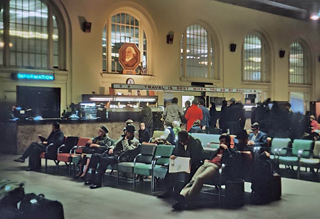 Great Northern Station Mpls
1971
---
---
Renaissance Festival's uncertain future
Photo: Bruce Bisping/Star Tribune via Getty Images
Scott County is giving the Minnesota Renaissance Festival 10 weeks to come up with a traffic and parking management plan, or else officials will shut down the event.
Why it matters: Last year's festival saw more than 300,000 visitors, and traffic was often backed up for miles — blocking major area roads, frustrating locals and forcing fairgoers to wait hours before even entering a parking lot.
What's happening: An amendment approved at a Scott County Board of Commissioners meeting Tuesday requires, among other things, that operator Mid-America Festivals Corporation:
Create and present a transit and traffic management plan for approval.
Secure bussing options, potentially including park and ride lots, and encourage patrons to take the bus.
Hire a professional parking company to manage the site.
Implement a real-time messaging system to show if lots are full.
Plus: A date-specific parking voucher will be required for each vehicle, and 5,000-7,000 will be issued per day, depending on if the other requirements are met.
Reality check: Neither county staff nor the festival could share details on what a potential traffic management plan would look like. A festival spokesperson said at the meeting that "the plan will come later."
The other side: Several commissioners added that they didn't want to shut down the festival and had hope for the future.
"I wish it didn't have to get to this point, but I think we've got something better that's worth going forward with," board chair Tom Wolf said.
What we're watching: Mid-America Festivals Corporation will present its plans to the board on June 1. The Renaissance Festival can't operate unless the proposals are approved.
---
---
Tune in to live music — from your couch in Minneapolis
Wells Fargo's One Night Only concert series celebrates artists at iconic venues around the U.S.
Here's the deal: No need to book a plane ticket to enjoy. Watch the performances from anywhere — for free.
---
---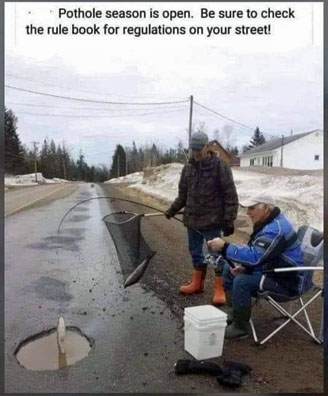 ---
---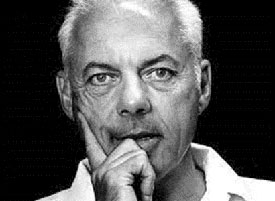 BUD GRANT - 1929-2023
Bud Grant, the most iconic sports figure in Minnesota history, died Saturday. He was 95.
Bud earned nine letters in football, basketball and baseball from 1946 to 1949 at the University of Minnesota. Two-time first-team All Big Ten in football. MVP of 1947-48 basketball team. Selected by the Philadelphia Eagles in the first round of the 1950 NFL draft. Fourth pick of the Minneapolis Lakers in the 1950 NBA draft.
Grant was a standout athlete for the Gophers, played professional basketball for the Minneapolis Lakers and starred in the NFL, but made his mark in the state as coach of the Minnesota Vikings, leading them to four Super Bowls in his 18 seasons and earning a spot in the Pro Football Hall of Fame.
More than that, the avid outdoorsman was known for his statue-like appearance on the sideline as his teams played in the winter elements. There was a weekly study in stoicism that fans of the Vikings saw, month after month, year after year, from Grant. The no-heaters-on-the-sidelines, no-gloves-allowed, weather-be-damned toughness he displayed — and demanded from his players. The chiseled, taut, expressionless face with the clear blue eyes that we saw on the sidelines.
Somewhere along the line, Harry Peter Grant Jr., born and raised in Superior, Wis., came to embody how a lot of Minnesotans liked to think of themselves: hard-working and successful; steady and reliable; unflappable and independent.
"He never embarrassed a player, never criticized or chewed a player out in front of anybody else," former Vikings running back Dave Osborn said. "If he had something he didn't like about you, he'd take you aside and talk to you.
"Bud just had a knack for leading, handling people. He was a great football coach, but Bud could have coached a sport he didn't know anything about because he just knew how to handle people."

---
---
James 'Owl' Walsh, stalwart Minnesota musician from the band Gypsy, dies at 74
"He was a leader, an organist, a pianist, a producer, a killer vocalist and a very, very underrated songwriter."
By Jon Bream Star Tribune
James "Owl" Walsh, leader and original member of the local rock band Gypsy, in November 2021.
He dropped out of Edison High School at age 16 because he was making more money playing in a Minneapolis rock band than his dad was at a printing job. That group morphed into Gypsy, Minnesota's seminal progressive rockers and the first local act to sign a major album deal in the 1960s. For more than six decades, James "Owl" Walsh remained a stalwart on the Minnesota music scene.
"He was a leader, an organist, a pianist, a producer, a killer vocalist and a very, very underrated songwriter," said Minneapolis drummer/singer Bobby Vandell, who joined Gypsy in 2021 but had admired Walsh since a 1965 Minnesota State Fair gig. "As a songwriter, James Walsh was breathing the same air as Don Henley, Jackson Browne, Bonnie Raitt, James Taylor."
Walsh died Saturday at M Health Fairview Southdale Hospital of congestive heart failure. He had been in declining health with diabetes, heart issues and mobility concerns. He was 74.
Gypsy hung out with Jimi Hendrix, toured with the Guess Who for two years and played in front of 300,000 people at Atlanta Pop Festival in 1970. In the early '70s, Gypsy's songs "Gypsy Queen, Part 1" and the 11-minute "Dead and Gone" became staples on FM radio, especially in the Twin Cities and St. Louis.
"Little Jimmy Walsh from 31st and Pierce Northeast" Minneapolis, as he told it, started his career at age 12 playing drums in a polka band. His mother sang in a barbershop quartet. Having switched to accordion and then piano (with lessons from Mom), he joined a local rock outfit called the Hot Half Dozen and then got recruited by the Underbeats, who had the local hit "Foot Stompin.' "
In 1968, the Underbeats evolved into Gypsy and moved to Los Angeles. They became the house band at the popular Whisky a Go Go for nearly two years, making lots of friends in the music community, opening for such acts as the Kinks and Little Richard.
"Jimi Hendrix came to see us and apologized for using the name Band of Gypsys [for an album title]," Walsh said. "We didn't care. He came to the [Gypsy] house for a few days. We jammed a little bit, hung out mostly."
Gypsy received recording offers from the established Atlantic Records and Metromedia, a broadcast company suddenly hot in music with Bobby Sherman. Gypsy chose Metromedia, for which they made two records (including a rare double-LP debut) and then two more for RCA.
In 1975, the band broke up but singer-keyboardist Walsh, after the drug-related suicide of lead singer/songwriter/guitarist Enrico Rosenbaum in '79, periodically resurrected Gypsy, releasing five albums, including one in 2021, and doing occasional performances.
In 2021, Gypsy delivered "Red Stone Line," which Walsh described then as "Gypsy's grown up. We are taking it from a less starry-eyed view and more of a musical position." The sound was still adventurous but less long-winded. Influenced by Steely Dan and early Chicago, the songs were still trippy, eclectic and philosophical.
Gypsy last performed in October at Crooners in Fridley. Walsh went into the hospital in the fall, but he was coming up with ideas for another album.
"He was telling me he had a whole new batch of songs in his head," Vandell said. "And they were coming quickly. He was excited about doing another album."
---
---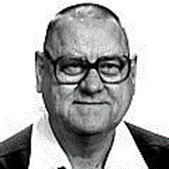 MEYERS PETERSON (1924 - 2009)
CAMBRIDGE, MINNESOTA
Meyers and his wife Daphne taught together at New London and then Minneapolis Southwest High School. He taught biology and coached football, track and softball. Meyers was also the Southwest HS Athletic Director for 22 years. He officiated high school and college football and basketball for 25 years through out the five state area. He was a member of the St. Cloud State University alumni board and recipient of the Distinguished Alumni Award.
---
---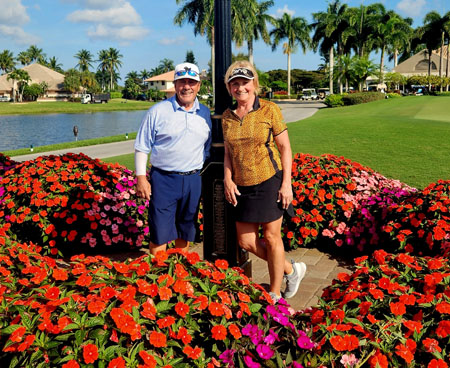 Marsha Engle checks up on Mark Kohn in Boca Raton-Feb 2023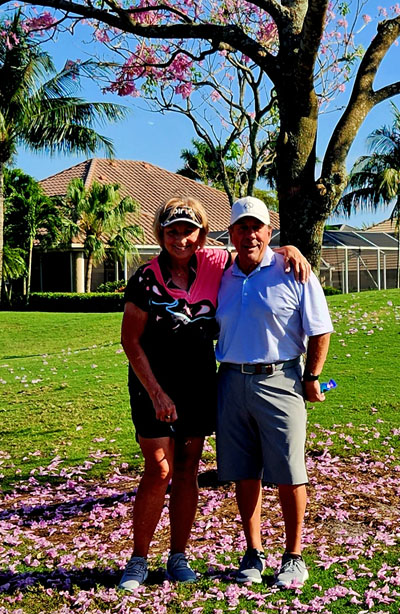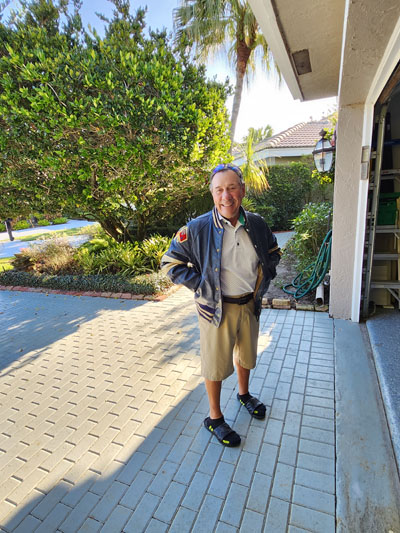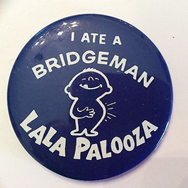 ---
---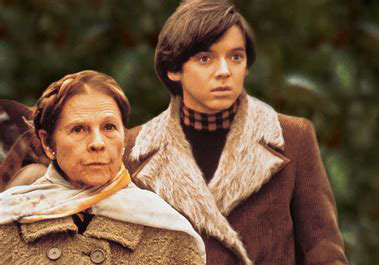 ---
---
Received notification that Patrick Jeffrey Dobbs died on April 10,1994 in Hennepin County.
No further details. Photo from 1966 annual. Not pictured in 1967.
---
---
BWCA permits go on sale
Permits for the Boundry Water Canoe Area (BWCA) go on sale Wednesday January 25, 2023 at 9 AM. The forrestry service will issue 250 permits a day, 13% less than 2022, and they expect them to go fast. The season runs from 1May to 30Sep, so plan ahead!! Go to "recreation.gov"
---
---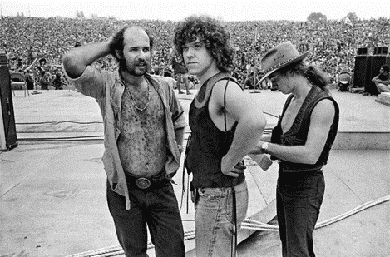 By Ben Sisario
Jan. 11, 2022 StarTribune
Michael Lang, a Force Behind the Woodstock Festival, Dies at 77He and his partners hoped their weekend of "peace and music" would draw 50,000 attendees. It ended up drawing more than 400,000 — and making history.Michael Lang, center, at the Woodstock festival in Bethel, N.Y., in August 1969 with Steve Cohen, left, and Rocky Williams of the event's production team.
Michael Lang, one of the creators of the Woodstock festival, which drew more than 400,000 people to an upstate New York farm in 1969 for a weekend of "peace and music" — plus plenty of drugs, skinny-dipping, mud-soaked revelry and highway traffic jams — resulting in one of the great tableaus of 20th-century pop culture, died on Saturday in a hospital in Manhattan. He was 77.
In August 1969, Mr. Lang was a baby-faced 24-year-old with limited experience as a concert promoter when he and three partners, Artie Kornfeld, John P. Roberts and Joel Rosenman, put on the Woodstock Music and Art Fair on land leased from a dairy farmer, Max Yasgur, in bucolic Bethel, N.Y., about 100 miles northwest of New York City.
They sold 186,000 tickets in advance, at $8 a day. On the opening day, traffic snarled much of the New York State Thruway, and many ticket holders did not make it. Others simply entered the field without paying.
The event became a defining moment for the baby boomer generation, as a celebration of rock as a communal force and a manifestation of hippie ideals. Despite the presence of nearly half a million people, and the breakdown of most health and crowd-control measures, no violence was reported.
"From the beginning, I believed that if we did our job right and from the heart, prepared the ground and set the right tone, people would reveal their higher selves and create something amazing," Mr. Lang said in his memoir, "The Road to Woodstock" (2009), written with the music journalist Holly George-Warren.
---
---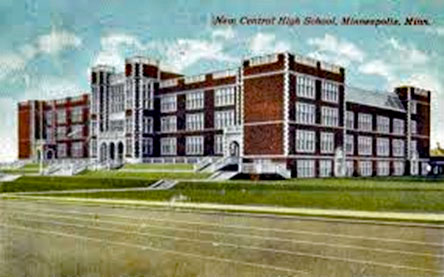 MINNEAPOLIS CENTRAL HIGH SCHOOL 4TH AVENUE SOUTH & 34TH ST
A GREAT EXAMPLE OF VICTORIAN GOTHIC ARCHITECTURE
FIRST ESTABLISHED 1860
NEW BUILDING 1877
EXPANDED 1886
NEW BUILDING 1913
CLOSED IN 1982
NOTABLE ALUMNI:
CEDRIC ADAMS, Broadcaster
EDDIE ALBERT, Actor
ORVILLE FREEMAN, Governor of Minnesota
JOHNNY BLANCHARD, New York Yankees Catcher
PAUL GRANLUND, Sculptor
HALSEY HALL, Sportswriter & Broadcaster
JAMES HONG, Actor
JOHN KUNDLA, Basketball Coach
GEORGE LEACH, Mayor of Minneapolis
BOBBY LYLE, Jazz Musician
BOBBY MARSHALL, First African-American to play in the NFL
NOEL NEIL, Actress (TV's Lois Lane on Superman)
PRINCE, Musician
ERIC SEVAREID, Journalist & Broadcaster
SHARON SAYLES BELTON, Mayor of Minneapolis
ANN SOTHERN, Actress
PAUL WESTERBERG, Musician
Hat tip Jim Boyer-SW64
---
---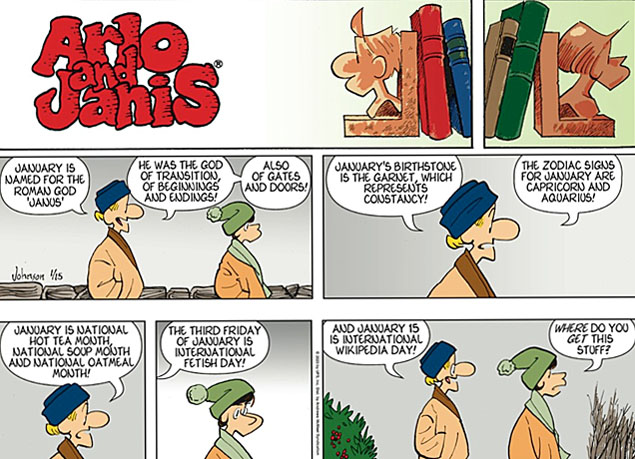 ---
---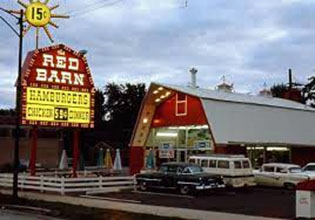 50th France
---
---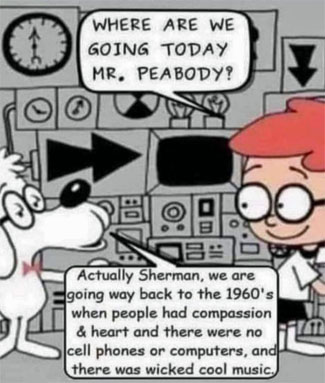 ---
---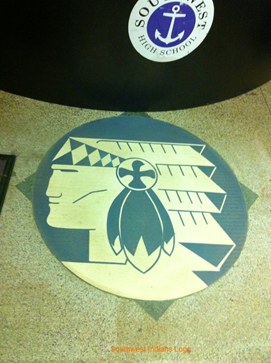 Our Mascot Symbol. After graduation it was covered with a rug and then chiseled out of the floor and erased from history??
University of Minnesota update
The U of M has announced that it has closed Northrup Auditorium due to a partial roof colapse. The 1929 building and 2 adjacent parking lots will be closed until engineers assess the damage and corrective action.
The University of Minnesota wants the state to help it buy, expand and upgrade the Twin Cities teaching hospital. U leaders want to include a state of the art medical center. This announcement comes as Fairview Health Services, current operator of the U's hospitals, has announced plans to potentially merge with South Dakota based Sanford Health.
This project would take 5 years, be developed on the East Bank campus and will cost in excess of $ 1 Billion dollars.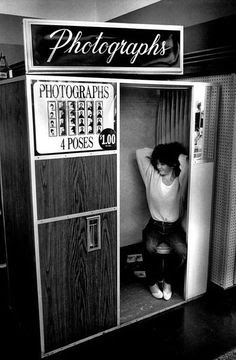 Remember these ??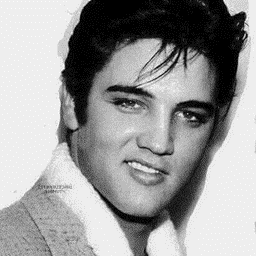 Elvis Presley born January 8, 1935
The Caribu coffee shop in downtown Wayzata will be closing on January 10, 2023.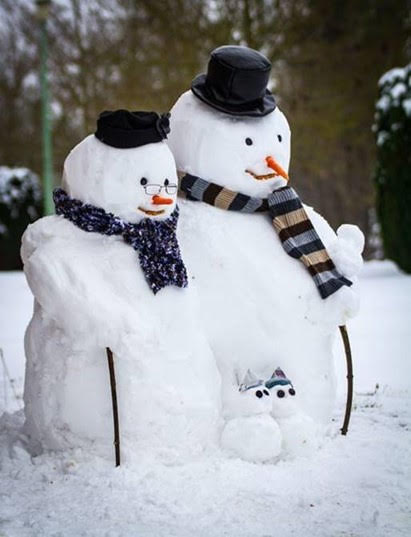 for you snowbirds in warm climate, Happy Winter!!!
---
---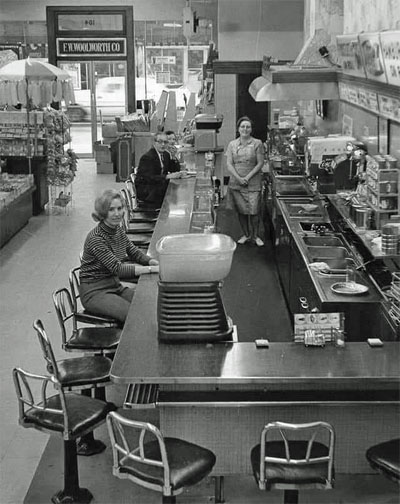 Woolworth Lunch Counter 1962
---
---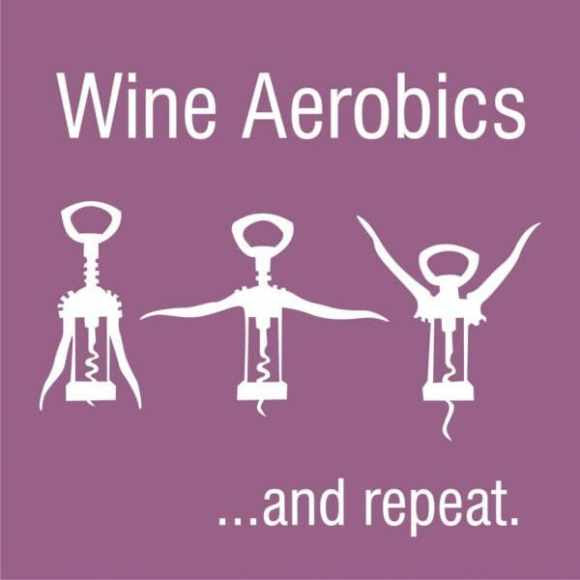 ---
---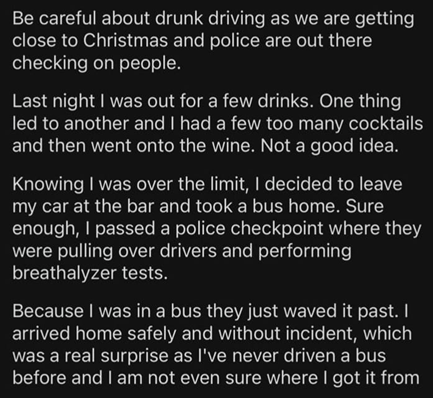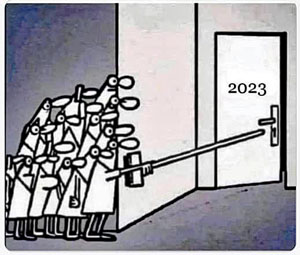 ---
---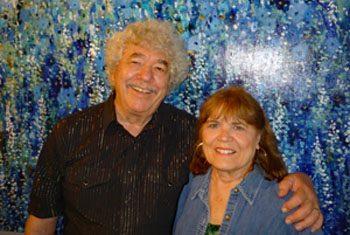 HAPPY NEW YEAR
Landrum and Lynnea Wise
---
---